Texas is preparing to carry out its second execution of the week Thursday, putting to death a Dallas man who fatally shot his two daughters while their mother listened on the phone.
If his pending appeals are denied, John Battaglia, 62, will be the third person to be executed in Texas in 2018. No other state has held an execution this year.
Battaglia's two previously scheduled executions were stopped by courts that wanted to further review claims that he was mentally incompetent for execution. Experts who have examined him said Battaglia thinks he was sentenced to death as part of a delusional cover-up. The courts have since ruled he can be executed, but his lawyers are still fighting as the clock ticks down to his scheduled time of death.
Battaglia killed his daughters while they were at his house for dinner in May 2001, according to court records. He had just learned there was a warrant out for his arrest after he harassed their mother and his ex-wife, Mary Jean Pearle. He got Pearle on the phone and had his oldest daughter, 9-year-old Mary Faith, ask her why she wanted Battaglia to go to jail.
Before the screams and gunshots, Pearle heard her daughter's last words: "No, daddy, please don't, don't do it."
Police discovered the bodies of Mary Faith and her 6-year-old sister, Liberty, in Battaglia's apartment with multiple gunshot wounds, the records show. It took four officers to restrain him when he was later found at a tattoo parlor with freshly-inked tattoos representing his daughters.
The girls' mother testified in court that she found a message from Battaglia the next day on their answering machine.
"Goodnight, my little babies," he said. "You were very brave girls."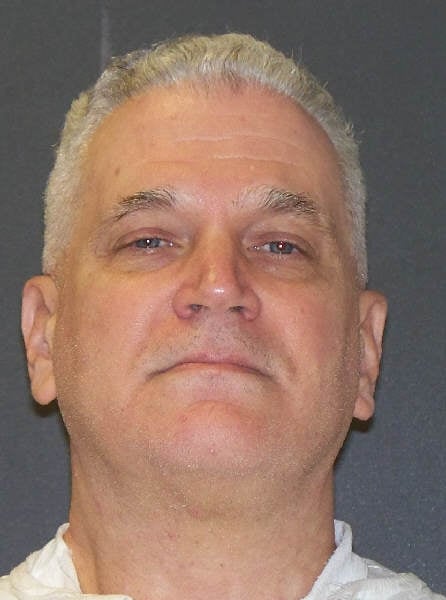 Battaglia was convicted of capital murder and sentenced to death in April 2002. After his state and federal appeals were denied, he was set for execution in March 2016. But just hours before his scheduled death, the U.S. 5th Circuit Court of Appeals halted the execution to allow Battaglia to develop a claim that he was incompetent for execution. To be eligible for execution, Battaglia must understand that he is about to be executed and have a rational understanding of why.
Psychologists who examined Battaglia said he believes his sentence stems from a vast conspiracy that includes his ex-wives, former attorneys, prosecutors, trial judge, the jury and the Ku Klux Klan. He has also claimed he was drugged and doesn't remember the murders. These delusions, his lawyers claim, prevent him from a "rational understanding" of his punishment.
A state district court took up the case, and the judge ruled that Battaglia had enough understanding of his situation to be executed even though three of the four psychologists who examined Battaglia said he was unfit for execution. Another execution date was set, but this time, the Texas Court of Criminal Appeals stepped in, saying the case needed more than the "bare-bones" review done by the trial court.
After its own review, the Court of Criminal Appeals issued a 78-page opinion explaining its decision that Battaglia was eligible for execution. The court upheld the trial court's belief that he is faking or exaggerating his mental illness to avoid execution, citing a recorded phone call Battaglia had with his father calling the death penalty "a damn chess game."
Judge Elsa Alcala dissented, as she often does in death penalty cases, saying the court used the wrong standard in determining Battaglia's competence, not the "rational understanding" precedent the U.S. Supreme Court set in another Texas death penalty case. She said she'd send the case back to the trial court to examine if Battaglia's awareness of the reason for his execution "is so distorted by his delusional thinking that the punishment can serve no proper purpose."
Battaglia's lawyers appealed the ruling to the U.S Supreme Court, where it is currently pending. He also has an appeal pending in the 5th Circuit. If all appeals are denied, Battaglia will be executed after 6 p.m.
There are three other executions scheduled in Texas through April.