Gorman, Texas (KRBC) – Charlie Hill and his donkey, named Smokey, are traveling through Texas, and they've been on their journey for years now.
"Well we're just out for a little walk. We go out for a little walk everyday and it turns into a thousand miles before you know it," stated Charlie.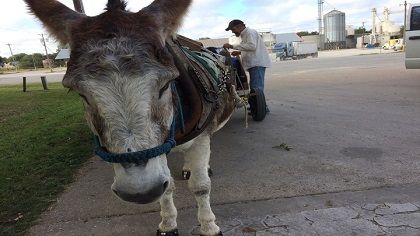 The two aren't lost, they're just dead set on traveling the Texas thoroughfares in search of two things, freedom and company.
"I meet such great people across the state of Texas, just awesome, incredible people."
However, Charlie hasn't always been on the road; he once was in the maritime shipping industry. Then, about 13 years ago he left, got a bike, and started to roam. 7 years later, he got a donkey and continued to roam.
"And I was just thinking it would be easier to carry more camping gear."
His first donkey took ill and passed away within the first year, which led Charlie to find and rescue his current traveling companion, Smokey.
"He's kind of lazy but so are we all."
Now, five years later, the two have grown inseparable and have logged thousands of miles through the Lone Star State.
"I'm just his handler. He goes where he wants to go."
But the pursuit of freedom is not always an easy one, and while Charlie does not profess to be a religious man, he does believe someone upstairs is looking out for him.
"I know there have been times when it gets down to the nitty-gritty and I'll say, 'Lord we need a miracle,' and it shows up."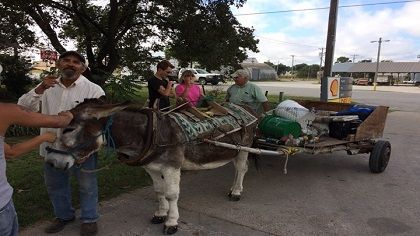 And some of those miracles very well could be the people Charlie and Smokey meet along the way. As they've traveled, they've gained a certain degree of notoriety, and are regularly approached by people offering anything and everything.
"People always come up and say, 'Oh, we love your story, and we love Smokey! We want to help you out all we can,'" finished Charlie.
Charlie stated that there is not an end in sight to he and Smokey's adventure.