I was really hoping to see Khalil Mack break the record for most sacks in a single game, so I could tell people at my local dive bar on trivia night 10 years from now that I was there for that game at SoFi Stadium.
But six sacks from Mack was enough for him to be considered a winner in Week 4. Unfortunately for the Raiders, allowing six sacks to one player during another sluggish offensive outing has them back in the losers' category.
Plenty occurred during the meeting between the Chargers and Raiders, but a lot more happened around the league in Week 4. Here are our winners and losers from the past week.
Winners 
Texans
Rookie quarterback C.J. Stroud has gotten the bulk of the spotlight, but rookie head coach DeMeco Ryans also deserves credit for how impressive the Texans have been on both sides of the ball the past three games.
The Texans (2–2) put it all together Sunday in their dominant win over the Steelers. Ryans's secondary (without injured cornerback Derek Stingley Jr.) held the Steelers to 111 passing yards. Houston hasn't allowed a 300-yard passer in four games this season, including Lamar Jackson and Trevor Lawrence.
Stroud had his second 300-yard passing game with 306 and two touchdowns against Pittsburgh. The No. 2 pick in the draft also hasn't thrown an interception.
Stroud has developed a strong connection with Nico Collins, who recorded seven catches for 168 yards and two touchdowns against Pittsburgh. Collins has flashed on several occasions since entering the league in 2021, but he's now becoming a legit No. 1 target with the arrival of Stroud.
Seahawks
Devon Witherspoon's 97-yard pick-six helped the Seahawks defeat the Giants and extend their winning streak to three games.
Witherspoon, the No. 5 pick in the 2023 draft, put on a show during Monday Night Football. He provided excellent coverage as a slot cornerback and applied pressure on Giants quarterback Daniel Jones. It appears the Seahawks hit on another draft pick, adding to their talented roster that will likely help them compete with the best teams in the NFC.
Bills
Many football pundits, including myself, suggested the Bills shouldn't get into a track meet with the Dolphins. Well, they did and beat the Dolphins at their own game by scoring 48 points in the dominant victory.
Buffalo didn't need to control the clock because they had the better defense to somewhat contain the Dolphins' many playmakers. Holding Miami to 20 points and under 400 total yards is more impressive than the Bills' allowing a combined 13 points to the Raiders and Commanders the prior two games.
Buffalo has the most complete team in the NFL, including special teams with a reliable kicker in Tyler Bass. (Yes, a kicker shoutout. That's how good the Bills have been since losing to the Jets in Week 1.) Buffalo also reminded the rest of the league that its offense can still play at an elite level.
Josh Allen and Stefon Diggs outdueled Tua Tagovailoa and Tyreek Hill. Allen averaged 12.8 yards per attempt compared to Tagovailoa's 8.1 yards per attempt. Diggs recorded six catches for 120 yards and three touchdowns, while Hill had only three catches for 58 yards and didn't find the end zone.
Zach Wilson
The Jets (1–3) came up short against the Chiefs (3–1), but still left the field Sunday night as winners because Wilson outplayed Patrick Mahomes in prime time.
Jets coach Robert Saleh wasn't wrong when he said after the game that the Jets will win many games if Wilson plays the way he did against Kansas City for the rest of the season. Wilson took steps in the right direction by getting himself in rhythm with quick throws before becoming a creator away from the pocket in the second and third quarters. Most importantly, Wilson displayed confidence in his skill set, as the Jets erased a 17–0 deficit.
But it wasn't a perfect night for Wilson. The third-year QB needs to stop dwelling on his mistakes, including beating himself up on the sideline after his costly fumble in the fourth quarter. There's nothing wrong with accountability, which Wilson took for the mistake, but he has to have a short memory on the field. It didn't matter in this game because the Jets never got the ball back. That's an issue for another day for the Jets, who still have plenty of fight left.
Khalil Mack
The 2016 Defensive Player of the Year stepped up in a big way for a Chargers defense that was without Joey Bosa and Derwin James during their 24–17 victory over the Raiders. Mack recorded a whopping six sacks to set the single-game franchise record, falling one short of the all-time record.
Mack didn't break Derrick Thomas's record of seven sacks in a game, but he did join him as the only two players in NFL history with two career games of five sacks or more. Mack's dominant performance informed his critics that he still has plenty left in the tank. He entered Sunday without a sack and ended the game as the league leader for that category.
Losers
Patriots
The Patriots might be done with giving Mac Jones more opportunities to prove himself as a franchise quarterback. He'll definitely start more games in New England with 13 games left in the season, but coach Bill Belichick might have already decided that he needs to search for a new signal-caller in the offseason.
Jones, a 2021 first-round pick, probably wasn't solely benched because he had one bad game against the Cowboys, who won 38–3 to hand Belichick his largest margin of defeat in his 29 years as a head coach.
Belichick got it wrong last season by handing the offense to Joe Judge and Matt Patricia, but he put Jones in a position to succeed this year by hiring Bill O'Brien as offensive coordinator and building a stout defense. Sure, the Patriots need more weapons offensively, but Jones has to play better than he has this season. He is averaging 224.5 passing yards per game and has thrown for five touchdowns and four interceptions this season.
On a different note, the Patriots also have issues on the defensive side with rookie cornerback Christian Gonzalez and Matthew Judon expected to miss time due to injuries.
Bears and Panthers
I'm pairing these two winless teams because they're connected because of the trade they made before the 2023 draft.
Chicago traded its No. 1 pick to Carolina, which it used to select rookie quarterback Bryce Young. In return, the Bears got wide receiver DJ Moore and the Panthers' 2024 first-round pick, which is currently the No. 2 selection in the draft. Who has the first pick currently? That would be Justin Fields's Bears.
If Chicago (0–4) ends the season with the No. 1 pick, it'd be tough to see the organization pass on USC quarterback Caleb Williams if he enters the 2024 draft. If that occurs, it might not matter how well Fields plays the rest of the season. He did show improvement against the Broncos before the team blew a 28–7 lead, but the Bears need more consistency three years into his career.
As for the Panthers (0–4), they might have put the Bears in position to draft Williams and Ohio State wide receiver Marvin Harrison Jr. with their pick from the Young trade. Wins might not matter at this point, but Carolina really needs Young to play better after struggling again in the loss to Minnesota.
It's way too early for a redraft story, but it seems Stroud and Anthony Richardson might have been the better choice over Young.
Bengals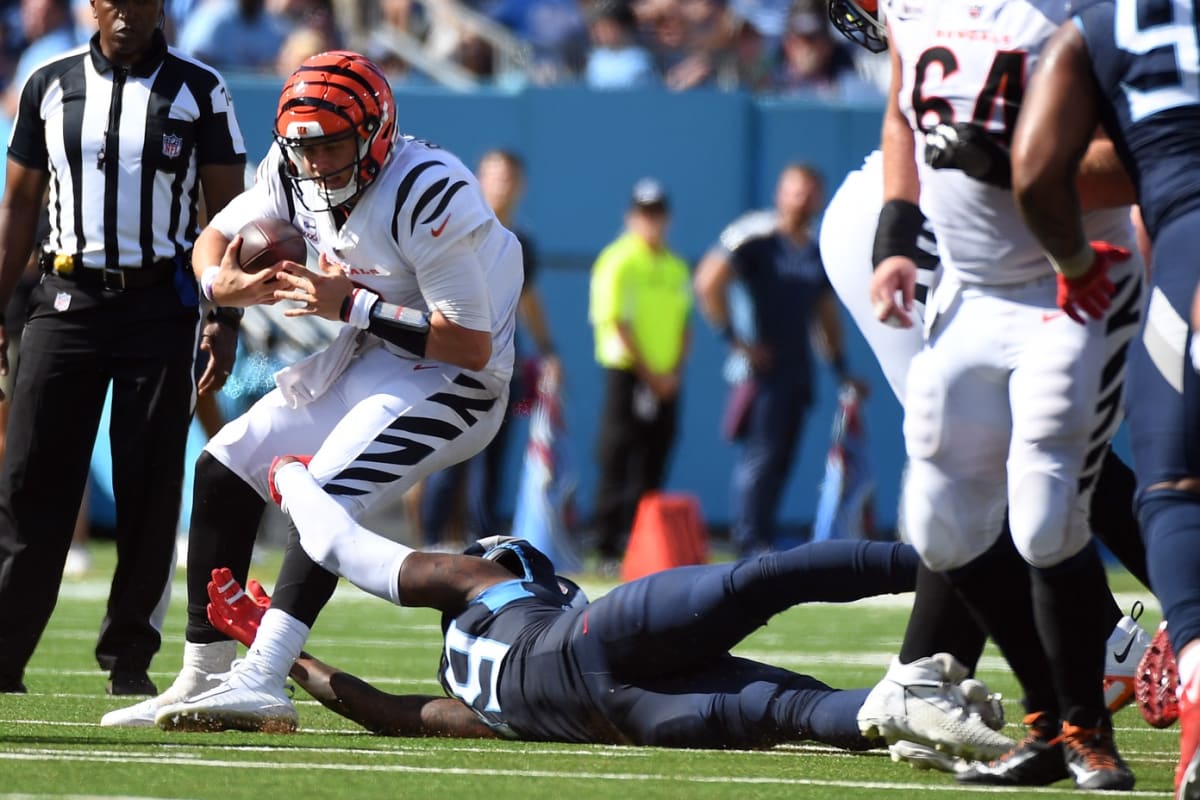 I'm not ready to eliminate the Bengals (1–3) as a potential wild-card team, but they're no longer a Super Bowl contender after they were crushed 27–3 by the Titans.
Joe Burrow might need more than Cincinnati's Week 7 bye to allow his calf to heal. Even if the Bengals win their next two games against the Cardinals and Seahawks, they'll return from the bye week to face the 49ers, Bills, Texans, Ravens and Steelers. And as we saw in their game against Tennessee, teams that are able to generate pressure will likely prevail against the Bengals because Burrow doesn't have the mobility to create away from the pocket.
It's probably foolish of me to count out a team as talented and as experienced as the Bengals, but Burrow isn't himself on the field. Cincinnati might be better off letting Burrow rest the next few weeks and return after the bye week.
Falcons
At first, it was intriguing to see what Arthur Smith would do with rookie running back Bijan Robinson. And to no surprise, Robinson is off to a fast start, but the Falcons are also boring to watch offensively.
There's nothing wrong with a run-heavy approach—although, it might decrease your chances of winning a Super Bowl in today's football—but this offensive approach won't work without a quarterback who's capable of completing downfield throws off play-action. Perhaps it's unfair to point the blame at second-year quarterback Desmond Ridder because Smith hasn't allowed Ridder to establish a rhythm early in games.
Also, Smith told reporters that Kyle Pitts's slow start might be due to the knee injury he sustained last season. But Pitts's struggles go back further than last season, and so has the lackluster passing game in Atlanta.
Raiders
As mentioned, I was at SoFi Stadium to witness another sluggish performance from Josh McDaniels's offense.
Wide receiver Davante Adams and running back Josh Jacobs, both visibly frustrated in the locker room, told reporters that they need to stop playing undisciplined football, especially in one-score games. But the Raiders' problems extend beyond execution in crunch time.
They have failed to get the rushing attack going with Jacobs, the reigning rushing champion. They also haven't gotten much production in the passing game from players not named Davante Adams. McDaniels might be on the verge of a second consecutive losing season as the Raiders' coach.