Eric Stonestreet is an actor on Modern Family, an Emmy winner and a Kansas City, Kan., native. He's also big into sports, whether driving the pace car at NASCAR races or rooting for his beloved Chiefs. And while he's wary of overstating his connections with Kansas City's front office, he has forged a unique relationship with GM Brett Veach and coach Andy Reid.
With the Chiefs heading back to a third Super Bowl in four years, Stonestreet shared his insights on his favorite team.
ON THE DYNAMIC BETWEEN VEACH AND REID: "I haven't really witnessed the dynamic with coach and Brett, like, them hanging out. I can only relate it to the fact that when we moved on from John Dorsey and I heard they were hiring Brett Veach, I'd heard his name, but I couldn't put a face to him. I didn't know what Brett Veatch looked like; I knew he was in our organization. And then when I saw a picture of him, I was just like, holy s---, the guy's younger than me.
"Again, it goes back to Coach Reid. He surrounds himself with people and he empowers people to do their job right. What I'm surmising from it all is, Coach Reid is a player's coach, and everybody loves him because he goes to work every day, probably first in and last out. And that translates. I'm giving you the tools and the platform to go be a Super Bowl champion. Do you want to do that? Because here's the required work to do it.
"I would imagine that's what translates to Brett. I know Brett doesn't sleep. I can only speak for the times I get text messages from Brett. Brett is up at all hours of the night. I know he's constantly thinking about football. I know he's constantly thinking about Kansas City Chiefs. I know his favorite movie is MacGruber."
ON THAT MACGRUBER NUGGET HE DROPPED OUT OF NOWHERE: "He loves that movie. He references that movie all the time."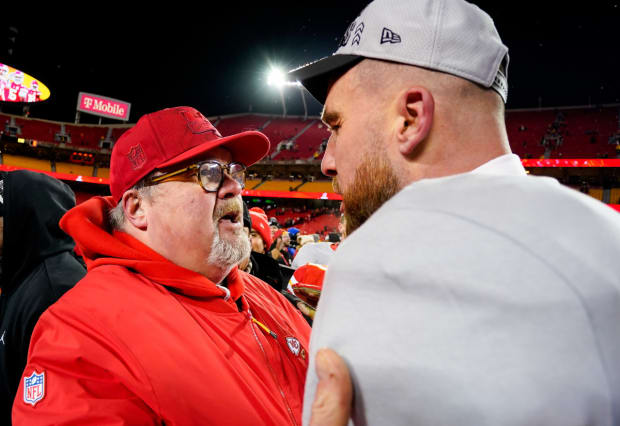 ON THE MOST SURPRISING THING REID EVER ASKED HIM ABOUT: "Just knowledge of my show [Modern Family]. I was always so intimidated by Coach. When we hired him with the Chiefs, I made a joke that like, Well, as long as he's here, I have a Halloween costume for forever, you know? It's simple to put on a headset and a red shirt and be Coach Reid. And then the whole Randy Reid thing happened. That was Brett Veach asking me to do that.
"With coach, it's just his knowledge of his surroundings. The most successful people in the world are the most curious people in the world, right? People that ask questions, people that look around, and, with respect to fame, my life changing when Modern Family happened, that's the one thing that I noticed. My life changed as I walked through life before that as an outward, upward person taking everything in around me. And then Modern Family happened, and with the immediacy of TV, I'm at the airport. Now, all of a sudden, I'm the guy from Modern Family staring at people, right? So my life kind of closed down a little bit in that I wasn't observing and taking it all. I feel like Coach takes it all in. I feel like he just sees everything. He knows everything. He talks to people."
ON A GOOD EXAMPLE OF THAT: "I'm always blown away by the immediacy of a text message back from Big Red. He's "Big Red" in my phone. And the other night, after the AFC championship, my friends from Dallas were in town. They'd flown up to more Chiefs games this year than they went to Cowboys games. And I said, I'm gonna text Coach congratulations. Because earlier in the season, I texted him 'congratulations on the AFC' and he wrote back 'West.' And I'm like, Oh, I got ahead of myself. He had an asterisk next to it. Then: 'We'll talk in a couple of weeks.'
"So I text him, 'All right, correction on my last text, congratulations on the AFC championship'. And I said to my friends, 'All right, let's all throw $5 in the pool. How fast do you think after winning the AFC championship will he respond? He's probably home with his family celebrating with a cheeseburger.' And everybody was like, 'Oh, I bet he's put his phone away for the night. He's gone to bed. He'll hit you back tomorrow morning.' And their son was like, 'He'll get you back within 30 minutes.' And sure enough, 26 minutes later, Coach Reid says, 'Thanks. Good seeing you after the game. Got more work to do.'
"That's all Andy. That's our coach. That's the kind of person he is. When we're interacting, I'm not 'Eric Stonestreet from a TV show.' It's Eric Stonestreet, who's been a Chiefs fan his whole life, doing it for other Chiefs fans. It's not about that. It's for me.
"If I'm speaking for Veach about our friendship, he quickly realized, Oh, this guy is not thirsty because he's on TV. I talk plays with them. I want to watch film. I watched Khalen Saunders tape in the draft room the year we drafted him. Veach invites me in, and I get to watch tape. I watched when they were thinking about drafting George Karlaftis, and I want to know what it is they love about him and why they were so high on him over the kid from Minnesota or whatever."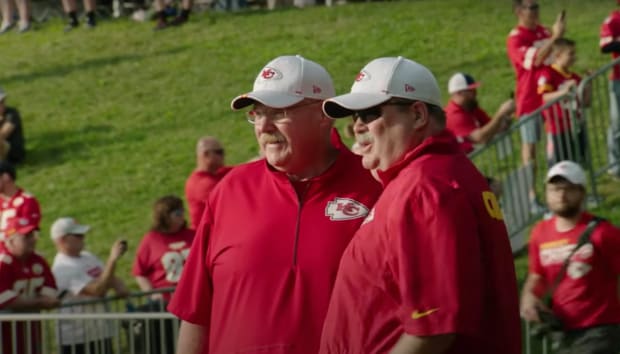 ON HIS RANDY REID CHARACTER: "My friend Jerry Collins, seven or eight years ago, came home for the Seattle Seahawks game. He's a Seattle fan. And when we were flying back to L.A., he was like, 'Eric, you really need to do something.' It's kind of like a love letter to the Chiefs.
"So we created Randy Reid, the brother of Andy Reid who nobody really likes and just tolerates because he's Coach's brother. That was really the beginning of the process. And when [Veach] called me one day and said, 'Hey, do you want to do something for the jumbotron? They're asking me to ask you.' I said, 'No, I don't want to be on the jumbotron because I don't want to go to the games and have people turning around and looking at me and pointing.' But I have had this idea for a long time, where I play Coach Reid's younger brother, Randy. He's like, 'We're doing that. When do you want to do it?' And I said, 'No, no, hold on. Coach has to be involved. He has to make a cameo. We have to have his blessing.' Because in order to make this funny, we have to make people that aren't familiar with the Kansas City Chiefs believe that it's real for a moment. It needs to be grounded in reality.
"And that was how it started. When we did it one year we went to the Super Bowl and won and then we did it and went to the Super Bowl and lost. So Randy Reid has officially retired."
ON CHIEFS FANDOM WHEN THE CHIEFS ARE WINNING LIKE THIS: "Equating it to my career, what I got really good at was never getting too ahead of the moment, right? Because I knew that disappointments were always just around the corner. So never allowing myself to spend the money or spend checks or imagine myself on set, until I got the job, because there were plenty of times that I thought I'd get the job and I didn't get it. So managing expectations was key. I think Buddha says, 'The disappointment is all in expectation.'
"I became that same way with the Kansas City Chiefs, which was through the Marty Schottenheimer years, we were the team of almost, we had good rosters, we had opportunities to get there, but we never made it. That beat me down with managed expectations. Then it all changed in the Baltimore Ravens game on third-and-like-18-or-19, or whatever it was, and Patrick Mahomes hit Tyreek Hill on that crazy pass. We came back and won the game. And that is the moment of that season when I realized I'm not my old, former Chiefs fan self anymore. Now, I've shifted to believing that we will pick it up and get it. We … will … win."
---
THEN AND NOW:
Gonna switch this one up today and riff a little bit on what the NFL refers to as opening night. Maybe it's just because I'm getting old, or because I've now been to 17 of these, but when people ask me what this "event" is like, my standard answer is "worst night of the year." I used to find the spectacle mildly entertaining, or at least not terrible. But the NFL keeps changing it in ways that make collecting even the smallest bits of information all but impossible. They added fans, music and live interviews broadcasting over the big screen. They seem to let in anyone who has ever held a pen. The questions are of the how-does-it-feel, what's-it-like-to-play-in-the–Super Bowl variety.
Here in Phoenix there was spectacle. I saw a dude wearing a barrel, a deodorant stick mascot (no free advertising here!), someone carrying a sparkly football, many sunglasses being worn indoors, someone in a cowgirl outfit, someone else carrying a horsy stick and a picture of a donkey and, well, you get the idea. I did see one first: An attendee brought a baby! I'm not sure if that's heroic or an example of teaching children things that should never be taught—like sports journalism. Oh, and I also saw a guy carrying a box of props and dropped one: fuzzy, pink handcuffs.
Anyway, here's what the NFL should do. Dump the pretense that this is a journalistic endeavor. Stop wasting the time of people who actually need to conduct interviews as part of their job. Make opening night into what it truly has become: an entertainment orgy, empty calories, easy to consume. Boom. Fixed.
---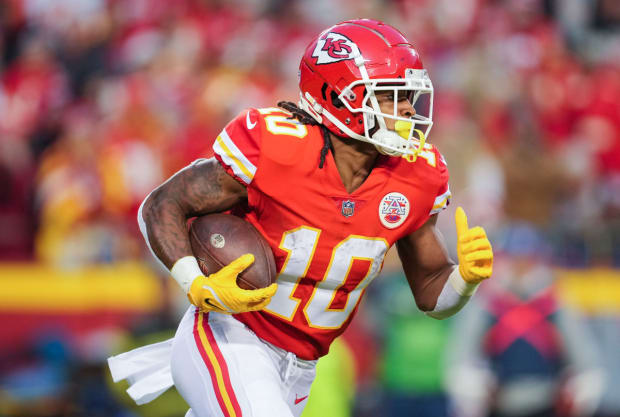 ON BACKGROUND:
Have to love this draft day moment for the Chiefs and their rookie running back, Isiah Pacheco. Here's my understanding of that moment: It was getting late, seventh round, closing in on Mr. Irrelevant. Teams from all over were calling the speedy running back from Rutgers. Pacheco was weighing where to sign but still holding out hope that he would be selected. Finally, at Pick No. 251, the Chiefs called. Their general manager, Brett Veach, knew running backs, having been one himself at Delaware. Pacheco began to cry and hugged his parents. And, according to a source, he blurted out, "It's Pat!"
He meant Mahomes. He meant his chance to win a Super Bowl. He has never won a championship at any level. Another source pointed out an interesting, related fact here: Pacheco never gained more than 729 rushing yards in a season during his four years at Rutgers. He gained 830 this season in Kansas City.
---
QUOTES WITHOUT CONTEXT:
"I don't want to see him dirty in the mud."
"Prison or whatever."
"Sixty-three years, you're not moving in one direction or another, it's just go-go-go."
"Bible study with the guys, thanks for listening."
"It's just such an honor."
---
CONTEXT:
Tried something different here. Turned on my Apple Watch voice memo and took a lap around the madness that is Super Bowl media day. These snippets are from that walk. What a weird, weird night.
---
ELSEWHERE ON THE MMQB:
• Albert Breer on why the time is right for Jordan Love in Green Bay
• Alex Prewitt on an Eagles linebacker who works out with the Watt brothers
• Jimmy Traina on the worst things about Super Bowl week