There is something perfectly beautiful about the Chargers calling and Justin Herbert uncorking a bomb half the field in length on a third-and-10 with less than two minutes remaining when all they needed was to drain the clock and pin a backup quarterback deep into his own territory.
It is a tacit acknowledgment that Things Get Weird with the Chargers. If there is even a percentage chance that some strange, rarer-than-a-Peacock-spider moment can happen, the Chargers draw it in cosmically. There are fans of teams who can joke half-heartedly about their teams' penchant for playing in unusual games, and then there are fans of the Chargers, who are too stricken with hangover panic from the week before to even talk about it. No lead is safe, and that has been true since well before the Brandon Staley era started.
But the throw was also a warm embrace of this same idea. While I firmly believe that at some point this season the Chargers will round into form and end the season as a static unit that does not induce panic, they will celebrate the fact that it happens and that they must plan for the football equivalent of a tear in the multiverse each week. They have a quarterback with a big, beautiful arm and a cadre of receivers who, even without Mike Williams, can challenge all corners of the field.
They are going to use it.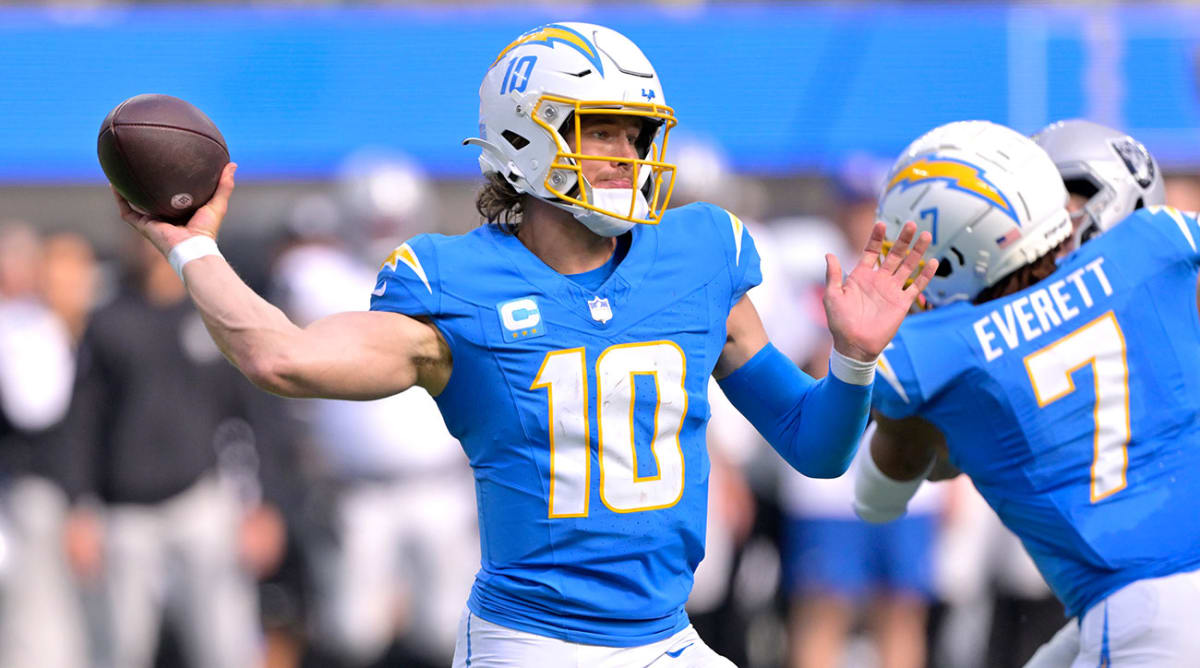 The Chargers pulling to .500 after four weeks is one of the more noteworthy, non–Taylor Swift moments of the football weekend. Los Angeles survived two losses by five total points to start the season (including one in overtime) and a failed fourth-down conversion attempt against the Vikings last week that gave Minnesota a chance to win the game deep in Chargers territory. They survived a significant comeback from the Raiders this Sunday, which they iced with Herbert's cannon on fourth down. We won't mention the way last season ended.
While this is dangerous to suggest, it would seem their fortune has to even out, which leaves the unalterable truth about this roster: It's arguably the second- or third-best offense in the NFL. Defensively? Los Angeles has a bye week coming to get healthy, and some time to sort out some of its complicating factors, such as the J.C. Jackson situation. Khalil Mack is playing his best football as a Charger, having recorded a near-record six sacks on his own in Week 4.
If we were eager to view the Chargers' start as a continuation of their previous season, a narrative that publicly annoyed Staley, then we should be as interested in the idea that they survived an emotional haymaker to start the season and have rounded into form. What if this Chargers team is able to shed its cardiac nature at the bye and improve this defense even incrementally? As of this writing, they are 20th in rushing yards per attempt and 30th in pass yards per attempt. They are 25th in EPA per play.
But … a lot of good defensive teams and coaches are playing poorly right now. Right around Staley in EPA per play are Vic Fangio's Dolphins, Ejiro Evero's Panthers, Jack Del Rio's Commanders and Lou Anarumo's Bengals. Pete Carroll's Seahawks are 28th in EPA per play defensively heading into their Monday Night Football game against the Giants.
Good designers of defense react. During his tenure with the Rams, Staley was one of the best second-half adjusters in NFL history.
If he can pull that off, if the Chargers can climb off the razor's edge, they may find themselves on firm ground, as the legitimately dangerous team we all imagined they could be.